It is important that you are familiar with the type and amount of washing that the client wants you to complete in their home. Each client will be different and expect different results. This is why you are required to follow their specific directions and ensure that you conduct the consultation correctly.
If a client SPECIFICALLY asks you NOT to wash things, then DON'T!
1.1 Gathering Laundry
As part of your initial 'scope' of the client's home (i.e. when you first arrive), you need to gather the washing that needs to be done.
Gather dirty laundry from the baskets, floors, or bathrooms in the home

Strip any bed linen that needs to be changed that day

Take all laundry to the laundry room for sorting
1.2 Sorting Laundry
When you finish your scope make sure to take all that gathered laundry to the laundry room. You now need to sort the different clothes, linens and items that you have gathered.
Sorting clothes allows you to use different cycle types ('delicate' versus 'normal') and also allows for washing at different temperatures. Most importantly, sorting clothes decreases the chances that a garment is going to bleed onto another or be damaged through incorrect washing.
Thats how much we give clients, on average, each month because their helper damaged something in the laundry.
1.3 Understanding Care Labels
YOU MUST READ EVERY LABEL
Every clothing item comes with a manufacturer's care label. This will tell you how the item is to be washed and dried. The instructions will either be written with symbols or just symbols. Please use the chart below to decipher the symbols.
Follow all care labels to avoid damaging items in the wash.
1.4 When in doubt, leave it out
When you are sorting a client's laundry and come across an item that is a fine fabric or looks expensive, and aren't sure if you can wash it safely, LEAVE IT OUT.
Do not just throw everything in the wash, look at each item and determine if it can be washed without damage.
If you damage a clients clothes or linen, you will be issued with a written warning. Multiple warnings may result in termination.
Items to leave out:
Silks
Satins
Linen or linen blend items
Wool
Leather
Cashmere
Thin knits
Suede
Lace
Lingerie items
Anything gauzy or fine
Anything marked DRY CLEAN ONLY
1.5 Sorting Piles/Washing Types
Wash Warm Or Hot
Normal/Cottons Wash Cycle
Laundry Detergent, Bleach, Fabric Softener
Wash Cold (Cold Setting)
"Normal Cycle but temperature to COLD"
Use laundry detergent only
Wash Cold (Check temp is below 30c)
Normal/Cotton Cycle - COLD
Use laundry detergent only
Separated from each other
Cold Cycle only
Laundry Detergent / Fabric Softener
Cold ONLY
On Delicate Cycle
Wool Wash NOT Laundry Detergent
Hot Wash
Normal Cycle
Laundry Detergent / Fabric Softener
Check all clothes for stains before washing
Use a stain removal spray prior to washing, or soak in cold water with a stain removal detergent. DO NOT USE BLEACH.
1.6 Water Temperature AND Applying Detergent
Using the right water temperature can have a huge effect on the outcome of your clothes washing. Your client will tell you what cycles they like to use. If they do not, use the information below as a guide.
Three factors involved in getting laundry clean are:
agitation in the wash cycle
detergent
water temperature
Cold Water
< 40°C
Dark Clothes
Delicate Clothes
Bright or Coloured Clothes
Coloured Linen
Wool
Warm Water
41-60°C
Synthetic Items
Hot Water
> 61°C
Towels
Sheets
Cotton Items
Cleaning Rags/Cloths
Many Machines Have Special Cycles
Do not trust them. Always check the temperature on the cycle matches your training. 30°C is NOT Cold Enough for Woollens.
1.7 Hand Washing
Only to be done by experienced housekeepers
Hand washing is recommended for delicate items such as lace, lingerie, wool, silk or very dark colours that may run.
- Use Cold Water
- Dissolve small amount of laundry detergent powder in 5 litres of water then add the article to be washed.
- Squeeze suds gently through the garment, taking care not to rub, wring or agitate any more than necessary. Squeeze out, then rinse well, using lukewarm or cold water. Use the same gentle treatment described for the washing procedure.
- Hang to dry on a flat or supported hanging surface
2.0 Drying the Washing
Every client will have a different method to dry their clothes. No two houses are the same, so you must discuss laundry in detail during your initial consultation to ensure you know what your client wants.
If you do not know how to use a dryer or have never used one before then you must pay special attention to this training. If you damage an item by shrinking it in the dryer you will be issued with a warning and you may be terminated after multiple damages.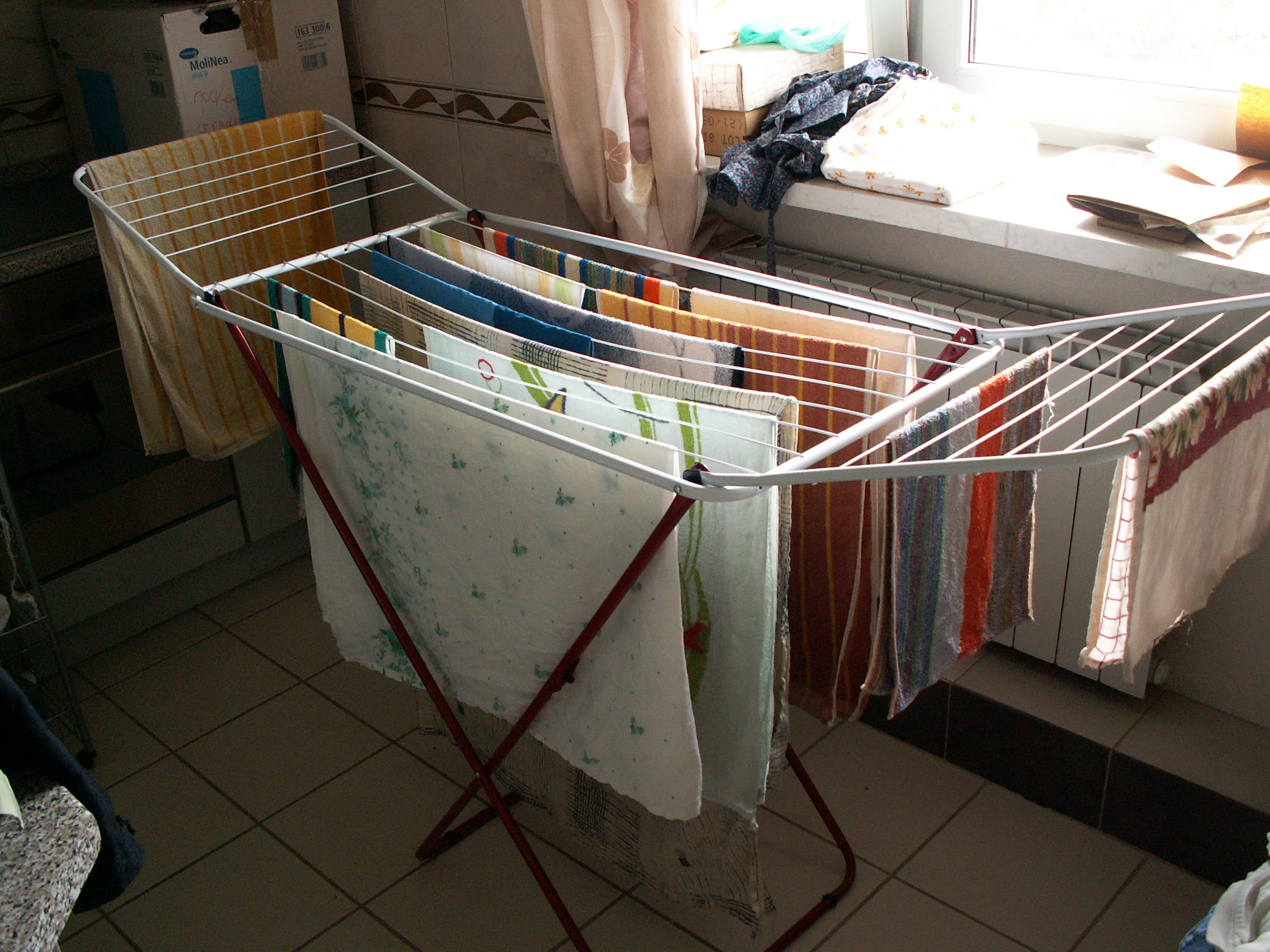 Used Indoor Only
Useful for drying Delicate items.
- Drape items over the rods without creases or bunches.
- Do not layer clothes on top of one another
- Use pegs if the items are small or may slip off
Drying clothes in the sun gives them a fresh smell and is usually quick
- You must use pegs to ensure items do not fall off
- Do not overlap items
- Pin at the edge of clothes, not in the middle
Most clients use a machine dryer to dry their clothes
- Most Likely to Damage Clothes
- 1. Always clean the lint trap out every time you use the dryer
- 2. Shake out each item before placing in the dryer.
- 3. Do not OVERLOAD the dryer. If it is above 3/4 full it is TOO FULL. If it is overloaded items WILL NOT DRY.
2.1 How People Use Dryers Badly
If you put the wrong items in the dryer they will shrink. Items which are shrunk are permanently damaged and we will have to pay for them to be replaced. You will be issued with a warning if you do this.
Drying clothes in a clothes dryer saves time, but it takes more than just shoving clothes in and turning the machine on. You must read the care labels on the clothing and know what kind of heat the fabric can take. Otherwise, you'll end up with shrunken clothes, damaged fibres, and an angry client.
High heat: Sheets, Towels, Jeans (be careful though), Sweats, and cottons.
Medium heat for synthetic fabrics
Low/Gentle/Airing: Low heat for delicate items like lingerie and workout clothes.
Air dry: No heat—great for fluffing pillows or refreshing clothes
DO NOT PUT VERY DELICATE OR WOOLLEN ITEMS IN THE DRYER.
If you remove clothes and laundry from the dryer as SOON as they are dry they will not be wrinkled
3.0 Folding Basics
Please click the button below to download and read through the Folding Training. You will be tested on your knowledge in the test below and also at your paid induction.